english
>>
Oh, look who is here again! lol. So, I bring something different this time, still Breaking Dawn (obsessed me? neee!!), but a Fanmix. It took me hours (pretty much a lot) to do everything. I'm pretty pleased with the result. It's a multi-language one (ye, I like making weird things!) so, you'll find Spanish, English and French. And as always, special thanks to
my sexy dark Edward
parvati_blossom
for helping me with the songs!.
español
>>
Hola mundo (literalmnt lol). Hoy traigo algo diferente, aún de Breaking Dawn (porque si, me ha comido el cerebro lol), pero esta vez un Fanmix!. Me llevó muchas horas (demasiadas) pero estoy bastante conforme con el resultado. Es multi-idioma (para que quedarse con lo existente? xD) así que habrá Español, Ingles y Frances dentro. Como siempre, especiales gracias a
mi Edward personal
parvati_blossom
por ayudarme con las canciones!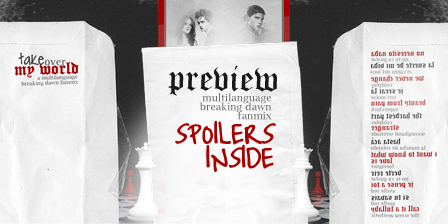 INSIDE: COVERART + SONGS LYRICS ART + DOWNLOAD LINKS (individual and full) + EXPLANATIONS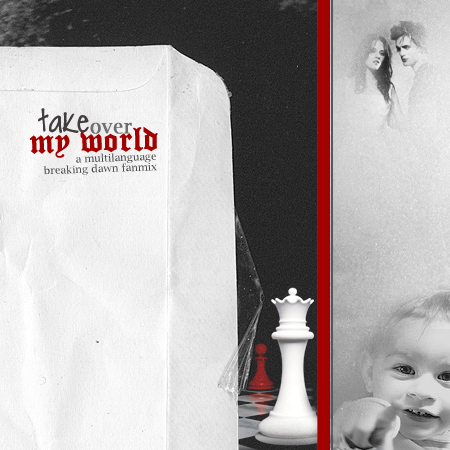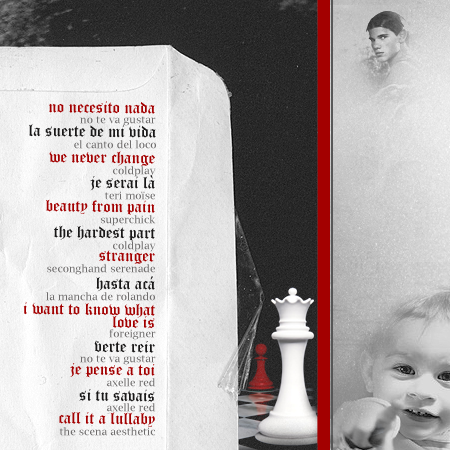 no necesito nada – no te va gustar
.
From Edward's POV, a pretty Bella/Edward song that goes from the first three books until the day they get married (and probably until the end of the book too).
Desde el punto de vista de Edward, la canción Edward/Bella que va desde los primeros tres libros hasta la boda (y probablemente hasta el final del libro tmb.)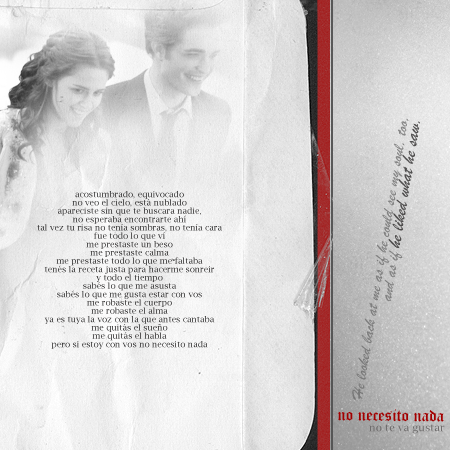 la suerte de mi vida – el canto del loco
Again from Edward POV, settled during the wedding, Edward wondering how he is so lucky with this angel becoming his in front of everybody.
Otra vez desde el pov de Edward, ubicada durante la boda mientras Edward reflexiona sobre el ángel que será suyo en frente de todos sus conocidos.
.
we never change – coldplay
Mostly based on the honeymoon, and they reactions to the moment, from Edward point of view, and how he feels about it.
Basado en la luna de miel y sus reacciones a los hechos, desde el punto de vista de Edward y como se siente con ello
.
je serai là – teri moïse
Bella's feelings toward Nessie during pregnancy, all the process, probably reaching a bit after pregnancy.
Los sentimientos de Bella hacia Nessie durante el embarazo, todo el proceso, probablemente incluso hasta post-parto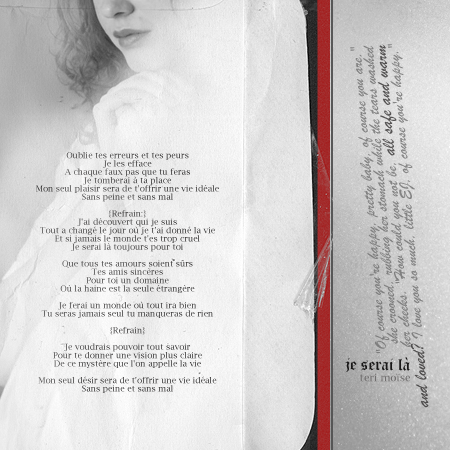 beauty from pain – superchick
This ones is meant o be during the birth of Nessie, it's from Bella POV, but mostly refers to everything that she went through during pregnancy and what she has to do for Nessie to born, and how that of course includes Edward. And of course, beauty here is little nudger Nessie.
Esta debería tomar parte durante el parto, desde el pov de Bella, aunque mayormente se centra en todo por lo que tuvo que pasar con la bebe para llegar hasta allí y lo que tiene que pasar durante el parto, obviamente incluye a Edward en dicho proceso. Por supuesto, la belleza aquí es la pequeña Nessie.
the hardest part – coldplay
Here comes Jake, and his feelings as he thinks Bella is dead and won't make it.
Pues, esta canción básicamente se basa en los sentimientos de Jake cuando cree que Bella está muerta y es hora de rendirse.
.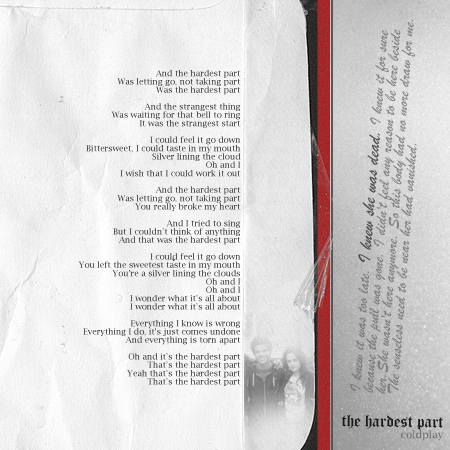 stranger – secondhand serenade
This is the impriting moment. Exactly the moment Jake and Nessie see each other, and of course, this is from Jake's POV.
El momento de la impresión, exactamente el momento en que se ven a los ojos, obviamente desde el pov de Jake.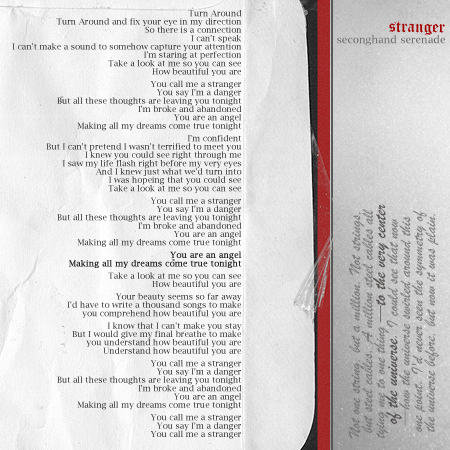 hasta acá – la mancha de rolando
I can't explain how much I think this applies to Jake. Probably would be suited best before the imprinting, but, I guess that actually as I see it is from before, specially when he runs and tries to imprint on any random girl until he sees Nessie and suddenly understands it.
No puedo explicar cuanto creo que esta canción se aplica a Jake. Probablemente estaría mejor ubicada antes de la imprimación, pero creo que como yo lo veo va desde que intentó imprimir en la primera chica que encontrara hasta que ve a Nessie y lo entiende todo.
I want to know what love is – foreigner
So, pretty much a looking to the future Nessie/Jacob song, though, it probably applies too at the moment as in post-imprinting.
Una canción que mira al futuro de Nessie/Jacob, aunque, probablemente se aplica ya al momento post-impresión.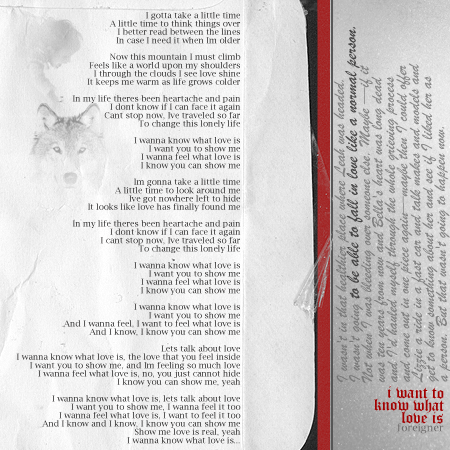 verte reír – no te va gustar
Edward POV of Bella's change. Kind of a look back to all his fears and his wishes for her to stay human.
El punto de vista deEdward de la transformación de Bella. Una suerte de retrospectiva de sus miedos y de sus deseos de que continuara siendo humana
je pense à toi – axelle red
Back to Bella's POV, this is meant to be at how she struggles all the bad things by just thinking on both Edward and Nessie, and how they make her keep going.
De vuelta al pov de Bella, esta canción se basa en como Bella enfrenta los malos momentos pensando en Edward y Nessie, y en como ellos la hacen salir adelante
si tu savais – axelle red
Though this is mostly an Edward/Bella song, I can't stop thinking it also applies to Bella/Nessie, so, I consider it like from Bella POV to both of them. Mostly goes about how she wishes he knew how special he is too her, and same to Nessie. (therefore the choosen quotes of the art).
Aunque esta es mayormente una canción Edward/Bella, no puedo dejar de pensar que también lo es Bella/Nessie, entonces, la considero una canción de Bella hacia Edward Y Nessie. Mayormente centrada en como Bella desearía que Edward entendiera lo especial que él es para ella, y lo mismo a con Nessie (de allí la elección de las quotes en el art!).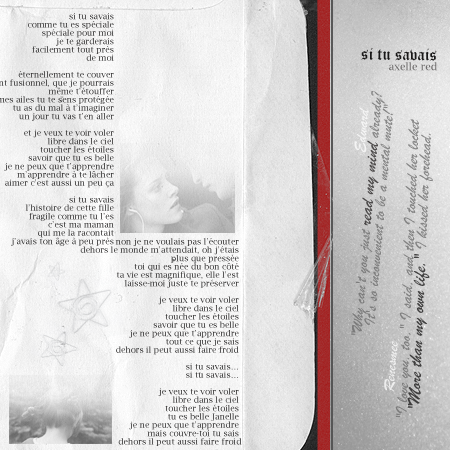 call it a lullaby – the scene aesthetic
This one is both from Edward and Bella's POV. Some parts belong to one of them, and some parts to the other. It takes place at the final part of the book, when Bella finally shares his thoughts with Edward. ♥.
Esta es desde el punto de vista tanto de Edward como de Bella, hay partes que pertenecen a uno y partes que pertenecen al otro. Básicamente tiene lugar en la última escena del libro, donde Bella finalmente comparte sus pensamientos con Edward. ♥
ZIP FILE (ALL SONGS + ALL ART)
So, this is it. If you need help with the lyrics or sth, just ask me (but the two last French ones, cause, I'm not sure I'm able to translate those!). Comments are always always love ♥,
specially cause I've been a whole day working on this and I'm pretty tired and feeling sick right now, so, I could make good use of those lol
Enjoy the pretty music!
So, esto es todo. Si necesitan ayuda con las letras, me dicen (menso las últimas dos francesas porque no sé si soy capaz de traducirlas!). Comentarios siempre siempre son amor ♥, sobre todo porque llevo todo un día con esto y estoy bastante cansadita y no me siento muy bien, así que podría darles buen uso lol.
Disfruten de la música linda!
Current Mood: tired
Current Music: beauty from pain - superchick